It's Casual Friday, and you know what that means: ZUBAZ!
[Thanks again to Dawn from Ann Arbor for this, the most casual of Photoshop jobs.]
On the show today:
Joe Conason
of
Salon.com
and
New York Observer
, and
Marc Maron
of Marc Maron fame.
Robert Gates,
no fan of Gitmo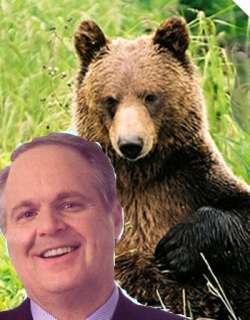 Is the Sam Seder Juggernaut
pokin' the bear
?
COMMENT THREAD
Bill O'Reilly invents the concept of the "
open transcript
"
From AP via
TPM Muckraker
:
Former Deputy Interior Secretary Steven Griles will plead guilty to one count of obstruction of justice in the Jack Abramoff corruption investigation, The Associated Press has learned.

Griles, an oil and gas lobbyist who became an architect of President Bush's energy policies while at the Interior Department between July 2001 and July 2005, is the highest ranking Bush administration official implicated in the Washington lobbying scandal.

The former No. 2 official at the Interior Department has agreed to a felony plea admitting that he lied five times to the Senate Indian Affairs Committee and its investigators about his relationship with Abramoff, people involved in the case told the AP....